Established under a TLA with a European partner, Korea Industry Corp., Ltd renewed company name to Daesan E&C Co., Ltd who manufactures customized quality DC motors to meet each and every customer needs. We makes best efforts to develop products from the viewpoint of end user for a comfortable life through continuous R&D for high quality motors.
We divided our business into three major departments for quick service and customer satisfaction.

Daesan E&C Company motto is to provide the best price, quality and service by means of reasonable thinking and positive activity.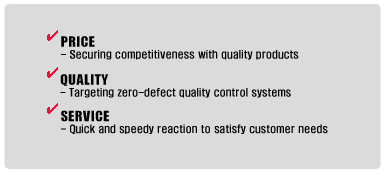 | | |
| --- | --- |
| Buyer / Seller | Seller |
| Business Type | Manufacturer |
| Year established | 1997 |
Contact Info:
Company
Daesan E&C Co., Ltd
Address
# 265 Seongwol-Ri, Seonghwan-Eup Cheonan-City Chungcheongnam-do 330-804 Korea, Republic
Phone
+82-41-588-1100
Mobile
+82-16-783-8089
Fax
+82-41-588-1104
Homepage
www.daesanenc.co.kr
Contact
Jeong Yeob Koo / Director